Bananas are rich in potassium and give you so much energy! Before a good workout try having some water and a banana and you will feel more motivated and ready to start your power-workout. Improve athletic performance and ease your digestion. Chocolate boosts your metabolism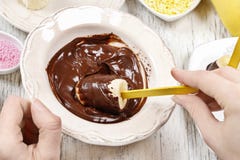 For the chocolate dipped bananas (you may also use strawberries):
1) put the semi-sweet chocolate chips in the microwave until they are melt (you may due it in 15 second intervals so the chocolate does not burn. Every time you remove them from the microwave give them a nice mix with a wooden utensil. Set the bowl aside
2) Chop your bananas finely
3) One by one dip the banana pieces in the chocolate and set them on a plate (decide if you want them covered completely or half)
4) You may want to add some almond sprinkles or coconut flakes on top & poke in some tooth picks so they are LESS MESSY
5) put the plate in the refrigerator to freeze up the chocolate. (a baking sheet on a baking tray is preffered- or the baking sheet on the plate)
ENJOY YOUR PERFECTLY HARMLESS AND CALORIE CARE-FREE DESSERT!
CREAMY, RICH & SWEET